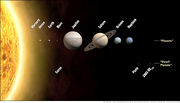 The Solar System consists of Sol and those celestial objects bound to it by gravity, all of which was formed from the collapse of a giant molecular cloud.
Major Planets and Moons
Mercury is the inner-most and smallest planet in the solar system.
Earth is the home world.
Luna is Earth's only natural satellite.